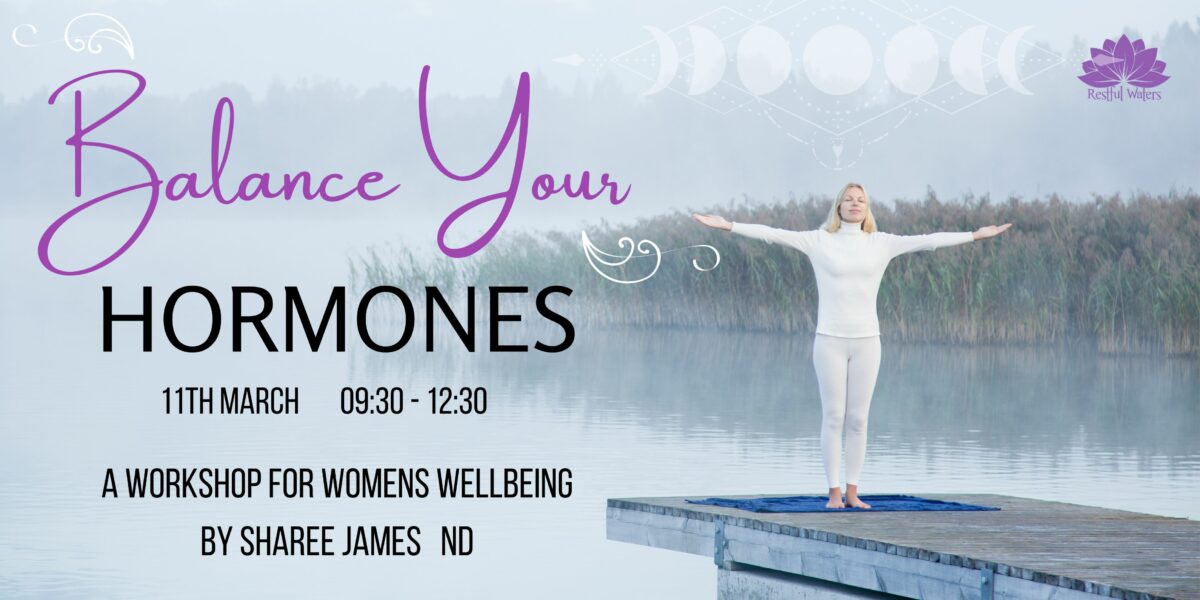 Balance Your Hormones – A Workshop For Women's Wellbeing
Join Sharee ND for a holistic workshop on hormonal health. Learn stress-reduction techniques, restorative yoga, and dietary tweaks to balance hormones.
Balance Your Hormones – A Workshop For Women's Wellbeing
Hormones feeling out of whack?
Feeling fatigued regularly?
Are you fed up with hormonal symptoms every month?
If so this workshop is for you!
In this holistic event with ND Sharee you will:
Discover how reducing stress is essential to balance all of the body's hormonal systems and learn simple stress-reduction techniques you can enjoy at home whenever you need to deeply relax.
Relax with a restorative yoga practice to nourish both the nervous system and promote pelvic & reproductive health.
Discover the huge impact diet can have on your hormones as well as simple diet tweaks to both keep your hormones in-check and enjoy all-day energy.
Learn how to minimise exposure to the everyday toxins in our environment that could be wreaking havoc on your hormones.
Find a new sense of joy and ease throughout the month as you learn about the best types of food, movement and self-care to support yourself at different stages of your cycle.
Learn how key nutrients and herbs can help ease period pain; heavy or irregular periods; premenstrual anxiety, irritability & low mood; perimenopausal symptoms and conditions such as hormonal acne, fibroids, endometriosis, PCOS and more.
Would you like to learn how best to nourish and care for yourself at each stage of your hormonal journey and how to celebrate the unique woman that you are?
If so, join Sharee ND a qualified naturopath, yoga & mindfulness instructor in this half-day workshop that will help you to discover how to balance your hormones naturally and finally uncover your potential for greater energy, joy & inner peace.
Learn stress-reduction techniques for hormonal balance
Enjoy restorative yoga for nervous system and pelvic health
Discover dietary tweaks for hormonal stability and energy
Minimize exposure to hormone-disrupting toxins
Gain insights into self-care for different stages of your cycle
Find joy and ease throughout your hormonal journey
November
Saturday
18 Nov 2023
9:30 am - 12:30 pm
Book Balance Your Hormones – A Workshop For Women's Wellbeing
loading event dates...