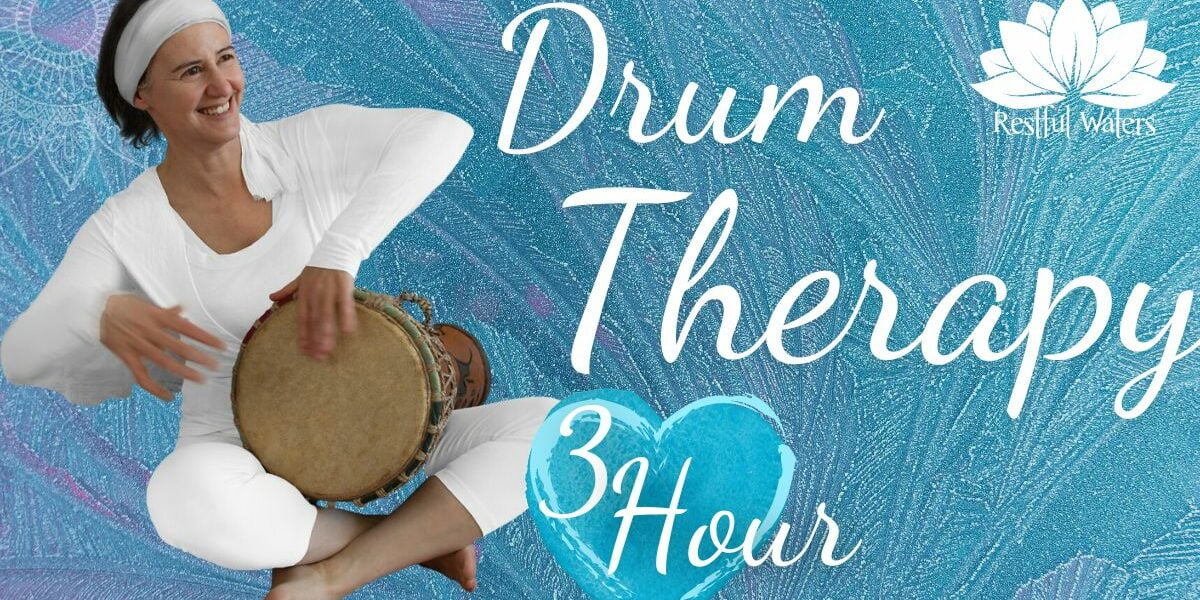 Join Jacey B for a 3-hour Drum Therapy session at Restful Waters. Experience deep relaxation, boost your immune system, and improve your mental well-being.
Do you sometimes feel like you are inside your head too much?
Stressed or anxious, overwhelmed or feeling flat?
Discover the healing power of Drum Therapy.
Join us for a transformative 3 hour session that will calm your mind, relax your body, and nourish your soul.
Drum Therapy is an ancient approach that utilises the healing and self-expression qualities of rhythm, triggering the release of feel-good chemicals like endorphins which improve mental health and overall wellbeing
Within a safe and non-judgmental space, you'll have the opportunity to express your individuality without even needing to say a word if you prefer.
Through the rhythmic effects of drumming, we can find a sense of centeredness, reset our nervous system, and open ourselves to new growth, experiences, and a sense of belonging.
This Drum Therapy event is based on the evidence-based program called Rhythm to Recovery®, which combines rhythmic music and movement with cognitive reflection and mindfulness.
By participating, you can experience a range of benefits for your overall well-being, including;
⭐ Deep relaxation
⭐ An improved immune system,
⭐ Increased sense of self-worth and self-esteem,
⭐ Reduced stress and anxiety,
⭐ Enhanced communication skills,
⭐ Social connection,
⭐ Improved memory and concentration, and
⭐ An overall sense of improved well-being.
You don't need any previous drumming or music experience—this event is open to everyone. We provide all the necessary equipment, so all you need to bring is yourself and your water bottle.
Experience deep relaxation through rhythmic drumming
Boost your immune system with the healing power of rhythm
Achieve an overall sense of improved well-being
Reset your nervous system, helping to alleviate chronic stress
Engage in a form of 'active meditation,' allowing you to focus and relieve stress
Experience deep relaxation to melt away stress